… well ever! I'm still a little fuzzy on who "myself" really even is. The truth is, I've always been dominated by some stifling something.
I've faked being happy and cheerful, when I was extremely insecure, due to my physical appearance.
I've had to fake caring about someone, when really I was done and just felt obligated to them.
I've had to keep my mouth shut about my opinions because I knew there wasn't one person who agreed with me. And who really wants to feed themselves to a bunch of piranhas? Because that's what people really are. They find the different, and then they rip it to shreds.
As I get older, I'm becoming more self assured. I can identify what makes me who I am, I know all the pieces, and I'm just starting to figure out how to put them all together. But I still feel like I have to fight to be myself. I'm in a loving relationship, with an amazing person, but even he doesn't really get me. I can tell he wishes I were different. He wishes I had less exhausting, inconvenient convictions.
There's no real resolution to this Debbie Downer blog post. All I can really say is that I'm always changing, always learning, and I hope that never stops.
This blog post was part of the Finish the Sentence Friday blog hop! For some hopefully more cheerful answers to this question, click the adorable icon below!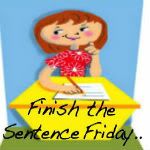 -Michele